With Apple's new iPhone 6 and iPhone 6 Plus going on sale in the first group of launch countries beginning on Friday, September 19, long lines have already started to form across the world as many anticipate the release of both devices. Apple retail customers in Australia will have the first opportunity to purchase the new handsets at 8 AM on Friday, as some have already begun lining up outside of the company's various retail locations. Currently, it is 7:10 PM on Thursday, September 18 throughout many parts of Australia.
Image credit: @beth_blanchard
One photo taken by Guardian Australia writer Bethanie Blanchard shows many customers lining up outside the Apple Store Doncaster, as the line is said to have started at 6 AM and stretches around the entire length of the shopping center.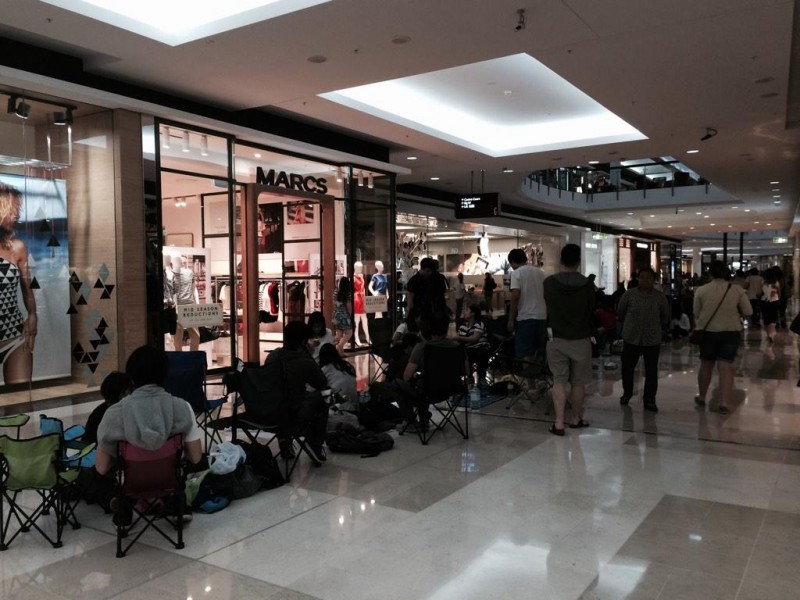 Image credit: @rodgerrodger
Meanwhile, a photo shared by Twitter user @rodgerodger shows the line surrounding an Apple Store in Brisbane. The image shows numerous customers setting up chairs and laying down supplies in preparation to stay the night ahead of the launch of the iPhone 6 and iPhone 6 Plus in the morning.
In addition to Australia, Apple's iPhone 6 and iPhone 6 Plus will be available in the US, Canada, France, Germany, Hong Kong, Japan, Puerto Rico, Singapore and the UK starting Friday, with Apple Retail Stores beginning sales at 8 AM. The company is also implementing a reservation pass system at its retail stores for those who line up, which will keep track of the line position of each customer and ensure that those waiting receive a device.
The first batch of iPhone 6 and iPhone 6 Plus pre-orders will also be delivered starting this Friday, as some devices have already begun shipping to customers. Shipping estimates for new iPhone 6 pre-orders remain at 7 to 10 days, while estimates for iPhone 6 Plus pre-orders are at 3 to 4 weeks. Apple announced this past Monday that it processed more than four million iPhone 6 and iPhone 6 Plus pre-orders during the first day of its pre-launch sales on September 12.
Recent Mac and iOS Blog Stories
• Apple Updates iMovie and Numbers for iOS 8 [Update: iMovie Pulled]
• Apple TV Updated With Beats Music Channel, — For more information read the original article here.